The Thunder River Rapids Ride was a river rapid water ride located in the Town of Gold Rush section of Dreamworld on the Gold Coast, Australia. It was recently Australia's only river rapids ride; however, a previous Rapids ride, The Snowy River Rampage operated at Wonderland Sydney.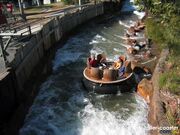 After four ride patrons were killed on it in late October 2016 the ride, and Dreamworld, was closed, first during the incident investigation, then on 9 November Ardent Leisures' CEO announced that the ride would not reopen, and was to be demolished.
Gold Rush Country (now known as the Town of Gold Rush) opened on 11 December 1986. The area featured the Eureka Mountain Mine Ride and the Thunder River Rapids Ride. The Thunder River Rapids Ride was among the most popular rides at Dreamworld until its closure on 25 October 2016 after four patrons died whilst riding.